The results are in for the Club Membership Contest… and there is fantastic news to report:
First off, there will be a lot of healthy fit people in BC this winter!
As of Dec 1, 21 clubs already have at least 80% of their last year's total membership!
7 of these clubs have already matched or beaten last year's total!
4 clubs have already broken their all-time membership record!
At the rate some clubs are going, expect a few more records to fall soon!
A HUGE thank you to the contest sponsors for supporting our healthy winter sport, a true "sport for life":  Rossignol, Sovereign Lake & SilverStar, Nipika, Madshus, Fisher & Swix, Pinnacles Suites, One Way, Boréale Explorers, and Salomon.  Thank you!
Here are your results:
Group A:  In the end, Sovereign Lake prevailed, despite a final push by Caledonia.  (These were the 2 largest clubs in Canada last year.)  Thanks to Telemark, last year's winner, for setting the early pace.
Group B:  Huge effort by  Black Jack to catch up to Overlander in the final week, with Overlander winning in a photo-finish, and both clubs setting new membership records.  Nelson fended off Fernie for 3rd, also in a photo-finish.
Group C:  Nickel Plate was simply unstoppable, shattering their previous membership record.  Hollyburn, already ahead of last year, finished second.  Impressive effort by Snow Valley in the final week to jump a bunch of spots to finish 3rd. 
Group D:  Vancouver Skiers maintained their narrow lead for the win.  Huge rally by 100 Mile to nip Nordic Racers in a photo-finish for second.  A shout out to Omineca to move from almost last to 4th in the final week. 
Group E:  Massive effort by Sunset Ridge in the final week to jump ahead and snag the victory, setting a new club record in the process.  Tetrahedron finished 2nd and Valhalla Hills finished 3rd.
Group F:  We have a tie for 1st between Skmana and Clinton.  Fort Nelson was not far behind for 3rd.
Winners will be contacted shortly. 
Here's the data for Top-3 finishes plus clubs that achieved at least 80%, ranked by percentage (of previous winter's total membership).  Current membership total is also shown for reference.

2017-18 Club Membership Contest – Prize Giveaway!
To add a bit of extra excitement to your club's membership drive, Cross Country BC is collecting some fantastic prizes to give away to the winning clubs. 
The following have been donated so far:
From Rossignol

A fleet of kids' ski gear – perfect for your Skill Development Program, Ski S'Kool program, equipment rental pool… your choice!  The winning club can choose between:

10 X beginner combi ski packages (various sizes of combi skis & boots, bindings, poles) - $4,000+ value, OR
20 X beginner classic ski packages (various sizes of waxless skis, boots, bindings, poles) - $4,000+ value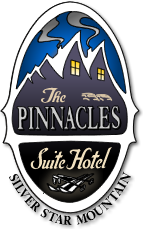 From Pinnacles Suite Hotel at Silver Star Mountain Resort

​two night stay for up to 8 people in a Pinnacles Suite during the 2017-18 Winter Season (excl. Christmas holiday and long weekends). - up to $1230 value
From One Way:

Premio 10 Poles 175cm – $490 value
Diamond 9max Poles 145cm - $200 value
2 X Diamond 970 Poles 140cm - $170 value each
Assorted One Way swag
From Fischer and Swix:

Classic Package - $1110 total value

Fischer Twin Skin Race IFP - $530
Turnamic Race Classic binding - $100
RCS Classic Boot - $340
Swix Comp CT5 Pole - $140

Skate Package - $1660 total value

RCS Skate IFP- $750
Turnamic Race Skate Binding - $100
RCS Skate Boot - $510
Swix Team CT2 Pole - $300

Assorted Fisher and Swix swag
From Sovereign Lake Nordic and SilverStar Mountain Resort:

3 day XC Supercamp plus Accommodations  (valued at $1450)
"From First Timer to Big Timer" Sovereign Lake Nordic Centre and Silver Star Mountain Resort offer Canada's most established cross country ski improvement camps for all skiing abilities & fitness levels. Whether you are a competitive Master's racer, a first time skier, or somewhere in between, come and enjoy our 105km of rolling terrain, professional coaching, exceptional grooming and the best early snow in the country.
From Nipika Mountain Resort:

A Ski Week In The Rockies for 2 people, including meals, accommodation, and coaching for 5 days - value of $2,990
From Madshus:

Madshus Classic Package (new skin ski!) - $1240 total value
Waist belt bag
Madshus mitten
Poles:  CR100HS - $270
Boots:  Hyper RPC - $270
Binding:  Rottefella classic - $80
Skis:  Terrasonic  IntelliGrip  - $450
From Boréale Explorers, based outside of Whitehorse, Yukon:

A two day all-inclusive stay for 2 at our adventure lodge, including shuttle transfer from/to Whitehorse, 2 nights accommodation, and all meals. - $850 value
Our team is passionate about living the good life in the Yukon and sharing what it has to offer. We value delicious food, playing outdoors, and watching the sun set.
From Salomon:

S-Lab Classic Ski 201 - $699 value
S-Lab Carbon Poles - $360 value
Equipe R Click poles - $200 value
Vitane 60 Poles - $140 value
Equipe 20 Poles - $80  value
Vitane 20 Poles - $80 value
Tons of Salomon swag - Hydration Belts, Ski Bag, Beanies, Buffs ($1,500 value)
Prizes can be used by clubs as they see fit:  to raffle off, for a family in need, to use as a volunteer draw prize, for a kids program, for an Early-Bird prize … your choice!
To win, a club has to have the highest percentage of members registered*, as of midnight Dec 1 2017, as compared to its previous winter's total membership.   For example, a club with 200 members last year and 140 members by Dec 1 would be at 70%, and a club with 160 members last year and 120 members by Dec 1 would be at 75%.
To make things fair as well as have more winners, clubs have been divided into 6 groups and a winner will be selected from each group, for a total of 6 winners.  The prizes will be randomly distributed amongst the winners.  The groups, along with last winter's club membership totals, are shown below.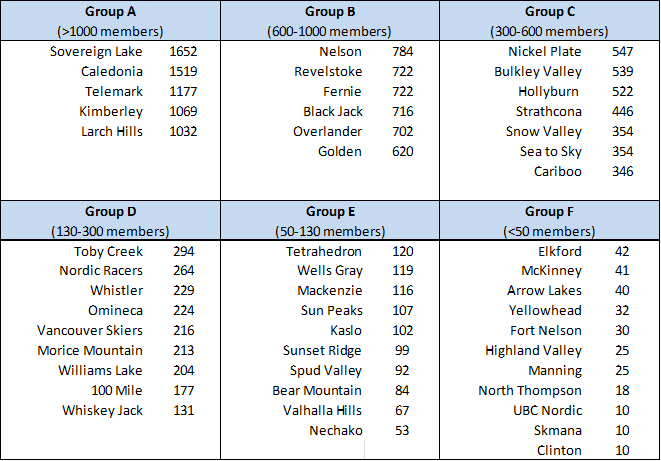 As a recap from last season, 9 of our clubs had record memberships, and many more were at multi-year highs.  Amazing!  What is possible this year?
Fingers crossed for early snow!
*As reported in the Zone4 membership database.